Ponder Environmental utilizes the best materials and techniques in the industry to meet your particular project specifications.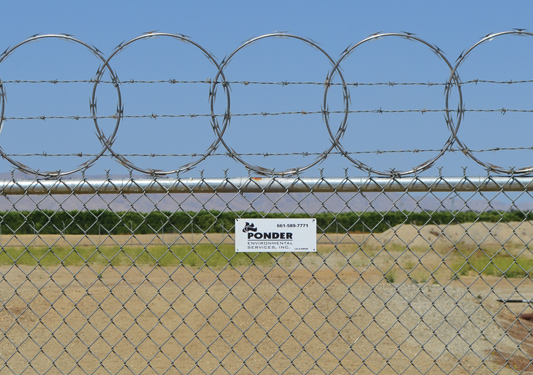 Ponder Environmental provides Temporary Fence and Permanent Fence design and installation services for the industrial, commercial, and residential markets.
The company utilizes highly-trained professionals in the fencing trade in order to provide our customers with world class service and materials for all projects.
Licensed by the California Contractors State License Board as a C-13 fencing contractor, Ponder Environmental provides guidance and professional service to ensure compliance with local, state, and federal specifications and regulations related to chain link fences.
Ponder Environmental is a full-service chain link fence installer that provides galvanized and ASTM materials in accordance with specifications, regulations, and individual client needs.
Temporary Fence Panels Rental, Installation, and Removal
Temporary Fencing Installation and Rental (No Concrete)
Permanent Chain Link Fencing (All Sizes)
Privacy Screen (Multiple Colors Available)
Double Drive Gates, Single Leaf Gates, Roll Gates, and Walk-In Gates
Slated Chain Link Fence
Barb Wire With T-Posts Fencing
Barb Wire Add-On For Chain Link Fence
Razor Ribbon Add-On
Concrete and V-Track Installation For Roll Gates
Asphalt For Safety Censor Loops
Key Pads and Motor Concrete Pads Installation
Slats Privacy Installations On Existing Fence
Special Size Temp Panel Orders
Our Fencing Services Include:
Temporary and Permanent Projects
Design, Installation and Removal
Specification and Regulation Compliance
World Class Service