Our materials handling team is equipped with the latest techniques and equipment for the safe clean-up and disposal of hazardous materials.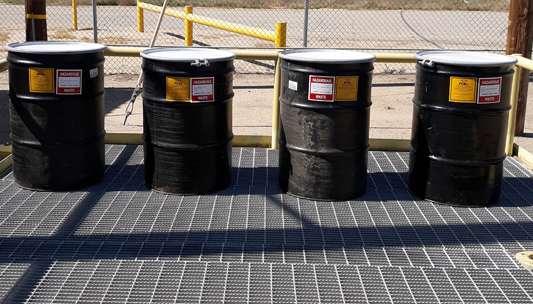 Hazardous materials stored at work sites and private facilities pose an inherent risk to workers, residents, the community and the environment. Common industrial and household items, including oil, pesticides, chemicals and paint can spill and create a hazardous situation.
Only a licensed professional should clean the spill site and pack and dispose the materials in accordance with all applicable laws and OSHA regulations.
Ponder Environmental is a full-service hazardous materials contractor (General A- HAZ 928436) that provides comprehensive hazardous site clean-up and material disposal services.
Our experienced team can respond to a wide range of hazardous material clean-up situations, from a small release to a large multi-phase event.
Hazardous materials that can cause dangerous spills and require professional handling include, but are not limited to:
Acids
Adhesives
Batteries
Chemicals
Controlled Substances
Fertilizers
Fungicides
Gasoline
Glue
Grease
Herbicides
Inks
Insecticides
Oil
Paint
Pesticides
Pharmaceuticals
Pool Chemicals
Propane Cylinders
Resins
Rodenticides
Solvents
Turpentine
Varnish
Weed Killer
Our HazMat Cleaning and Packing Services Include:
Spill Response Services
Licensed Hazardous Materials Contractor
Capacity for Multi-Phase Events
Professional and Safe Disposal
Compliance With All Regulations
DOT Waste Storage Containers: Drums, Boxes, Totes & Bins
Waste Management and Packing
Sampling, Profiling and Manifesting