Our temporary storage tanks are available for delivery at any time throughout the region and can be used for an extended period of time.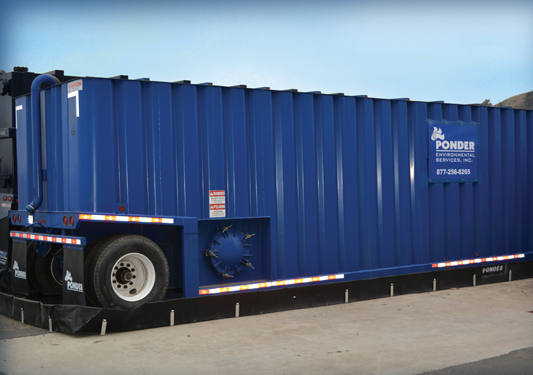 Ponder Environmental offers a turn-key service for the temporary storage of hazardous and non-hazardous fluids and solids at refineries, pipeline operations, construction sites and manufacturing facilities.
From water to hazardous waste, our mobile storage tanks are designed and maintained to safely contain fluids and solids associated with scheduled facility maintenance as well as at emergency incidents.
As a full-service hazardous materials contractor (General A- HAZ 928436), Ponder Environmental is equipped to handle and dispose oil, chemicals, acids, fertilizers and other hazardous fluids and solids.
Once the storage tanks are filled, our modern vacuum trucks can transport the stored materials to the appropriate processing facility.
Ponder Environmental also offers professional tank cleaning services to restore the temporary storage tank to its original condition.
Temporary Storage Tank Applications
Water Storage
Petroleum Storage
Chemical Storage
Groundwater Storage
Sewer By-Pass Projects
Storm Water Run-Off
Ship and Barge Cleaning
Dewatering
Leachate
Environmental Remediation
Product Storage While
In Shut-Down
Our Temporary Storage Tanks Services Include:
21,000 Gallon (Closed-Top) Tank
21,000 Gallon (Closed-Top) Tank With Coils
400 BBL Mix Tanks
8,400 Gallon (Closed-Top) Mini Tanks
Winch Trucks
Containment Berms
Temporary Fuel Storage Tanks (500 and 1,000 Gallons)
Delivery, Pick-Up, Cleaning