Ponder Environmental also provides guidance to ensure compliance with local, state, and federal regulations regarding confined spaces.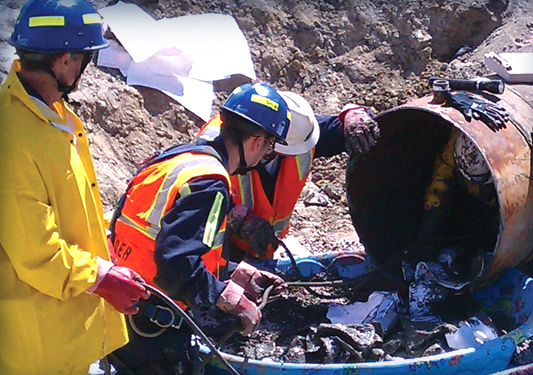 Ponder Environmental offers a wide array of technical services related to key aspects of confined space rescue and trenching operations.
Our highly-trained professionals adhere to the strictest health and safety guidelines in their roles as stand-by rescue teams, safety officers, and mobile breathing air systems operators.
Ponder Environmental's safety team can complement your internal resources or lead the classification of spaces and rescue procedures. Our recommendations reflect industry best practices as well as the standards established by the appropriate regulatory agencies.
Ponder Environmental provides professional vertical and horizontal rescues in a range of confined space environments, including:
Pipe Racks
Cat-Walks
Tops Of Vessels
Silos
Storage Tanks
Water Towers
Ship Holds
Barges
Tunnels
Sewers
Piping Systems
Vaults
Ponder Environmental operates specialized mechanical equipment or designs and constructs robust rope systems that provide our trained rescuers with the leverage necessary to gain access to and egress from the rescue location.
We are recognized for exceptional technical rescue skills involving ropes, anchoring and belaying systems, and lowering and hauling systems.
Our Confined Space Services Include:
Site Evaluation
Stand-By Technical Rescue Teams
Mechanical and Rope Rescues
Mobile Breathing Air Systems
Horizontal and Vertical Entry
First Aid and CPR Trained