Ponder Environmental offers temporary fuel storage tanks for customers' emergency and non-emergency needs.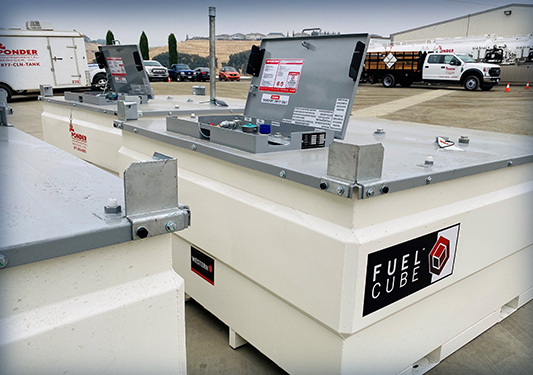 With a capacity of 500 and 1,000 gallons, the tanks can be used to fuel equipment in remote locations as well as local construction and manufacturing sites.
Ponder Environmental offers a one-stop solution – delivering the storage tanks to your location and coordinating remote fueling services to fill the tanks as needed.
Temporary Storage Tank Applications
Equipment Fueling
Wild Fire Support
Construction Sites
Standby Generator Power
Repairs of Existing Tanks
Remote Locations
Fleet Refueling
Temporary Storage Tanks
100 Gallon, Pickup Truck Mounted
500 Gallon, Skid Mounted
1,000 Gallon, Skid Mounted
Our Temporary Fuel Storage Tanks Services Include:
Tank Delivery and Pick-Up
Coordination of Remote Fueling
Three Tank Sizes:
100, 500 and 1,000 Gallon
24 Hour Dispatcher
Containment Berms